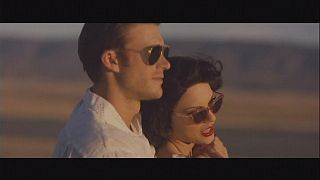 Fresh from winning the MTV Best Music Video of the Year award for 'Bad Blood', Taylor Swift is facing criticism for her latest offering 'Wildest Dreams'.
It depicts Swift as an early 20th century movie star who falls in love with her married co-star, played by Scott Eastwood, while shooting a film in Africa.
Critics have said the video features hardly any black actors and glamorizes African colonialism with stereotypical images of wild animals and savannah landscapes.
The video's Grammy-winning director Joseph Kahn has responded to the accusations of whitewashing by
arguing that the focus on white characters was both a matter of historical accuracy and a homage to movie classics like 'The African Queen' and 'Out of Africa', adding in a tweet that he has 25 years of (the) most diverse multicultural work of possibly anyone, with artists like Snoop Dogg, Aaliyah and Shakira.
SJW attacking me for not having minorities in my work when I have 25 years of most diverse multicultural work of possibly anyone. #facepalm

— Joseph Kahn (@JosephKahn) 3 Septembre 2015
And Canadian bad boy Justin Bieber has set a new global record for the most streams in a debut week with 'What Do You Mean?'. The track racked up over 21 million global streams in its first five days after its late August release, making it the biggest first week for a track on the streaming platform Spotify.
'What Do You Mean' also becomes Bieber's first UK No 1.
Produced by American DJ and singer-songwriter Skrillex, the track gives fans a taste of what to expect from Bieber's fourth studio album – his first since 'Believe' was released in 2012.
The video features professional skateboarders Ryan Sheckler and Chelsea Castro and sees Bieber show off his own boarding skills.
Justin Bieber's highly anticipated comeback album is scheduled for release in November.