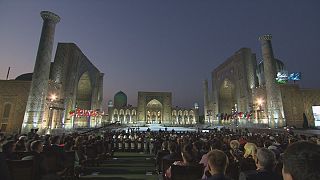 Every other year, traditional oriental rhythms fill the ancient city of Samarkand, in Uzbekistan. On Registan Square, in the heart of the ancient Silk Road city, the Sharq Taronalari festival celebrates the world's cultural diversity — through music.
Here we see respect -- veneration, even -- for the past. It's important to transmit it to the future generations
This year's 10th edition was held from Aug. 25-30 and brought together Uzbek and international artists from more than 60 countries.
"What is the manifestation of the diversity of culture?" says Franky Raden, member of the jury. "We don't see it, because I live in Indonesia, I only see Indonesia, you live in another country, you see only your country. But here you're able to see […] cultural diversity through music."
Held under the patronage of UNESCO, Sharq Taronalari is one of the largest festivals in Central Asia. It aims to promote heritage music and culture, and to foster peace and cooperation between nations.
"Watching the news everyday everywhere, we unfortunately see more attacks against art and culture," says Eric Falt, UNESCO Assistant Director General for External Relations. "Here we see respect — veneration, even — for the past. It's important to transmit it to the future generations."