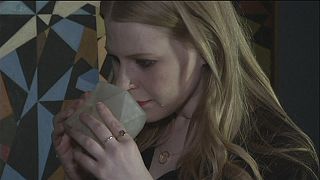 Imagine being able to hear, touch, taste or even smell a famed piece of art – at London's Tate Britain they're doing just that.
Cinema-goers may remember Sensosurround, now London's Tate Britain in London is exhibiting art you can smell, taste, and feel..
The 'Sensorium' exhibition invites visitors to use their ears, nose, mouth and hands to explore four artworks. They are :
'Interior II' by Richard Hamilton
'Full Stop' by John Latham
'Figure in a Landscape' by Francis Bacon
'In the Hold' by David Bomberg
It is all part of a prize-winning project by Flying Object, a London-based creative studio. The group was awarded the IK Prize 2015 for its proposal – an annual award for an idea which uses technology to help people discover, explore and enjoy art from the Tate's collection in new and innovative ways.
Visitors to the gallery are provided with a wristband that records their biometrical data as they react to the exhibition, which will be analysed by the University of Sussex.
"What we're creating through the sound is an atmosphere of that room, it's actually the acoustic of that room. So our sound designer Nick Ryan has worked a lot on crazy quadrophonic system, sort of surround sound system. So you get a sense of her walking in, you get a sense of the TV being turned on, windows being opened, things like that," says Flying Object Director Tom Pursey.
One bold artwork by John Latham, named 'Full Stop', (1961) , is a large black spot in the centre of an unprimed canvas.
Flying Object used touchless haptics technology which deploys focused ultrasound from an array of speakers. This in turn vibrates visitors' hands, creating a fake sensation of touch.
"So the most obvious thing was to create a sense of roundness on the hand, but also when you look at the edge of that black spot. It's illuminable, it's almost like breaking apart, it's almost like corona from the sun is what I think about. So what we also wanted to make sure is that that touch sensational on the hand is round, but then it also breaks apart and kind of gives you a sense of dry rain as well," says Pursey.
For Francis Bacon's 'Figure in a Landscape', curators teamed up with London-based chocolatier Paul A. Young to develop an edible treat to accompany the artwork.
It is intended to stimulate a taste experience in response to the piece.
Maybe gin and vinegar would have been more apt for Bacon.
"So, he's come up with something incredibly special and incredibly unusual. He's played with texture, so it's not the normal texture you'd expect from a chocolate. He's played with tastes, he's played with colours in many senses. Looking at the painting, it's a very, very dark and moody painting, but if you look even closer there are lots of bright colours hidden in there," says the Tate's Multimedia Producer Tony Guillan.
In an attempt to make the experience more immersive, ultrasound waves have been used to create directional audio, a similar experience to listening to headphones.
The show runs until 20 September.
http://www.weareflyingobject.com/
http://www.artistikrezo.com/2015082620498/actualites/art/tate-sensorium-veut-revolutionner-l-experience-de-l-art-contemporain.html
http://www.tate.org.uk/art/artworks/hamilton-interior-ii-t00912
http://www.tate.org.uk/art/artworks/latham-full-stop-t11968
http://www.tate.org.uk/art/artworks/bacon-figure-in-a-landscape-n05941
http://www.tate.org.uk/art/artworks/bomberg-in-the-hold-t00913