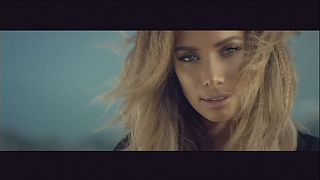 Eight years into her 'X-Factor'-launched career now and Leona Lewis is back with a new sound, new album and record label.
Now with Universal Music's Island Records after splitting with Simon Cowell, her mentor since 2006, she says the album "I Am" deals with the end of that relationship in a personal album that reflects the highs and lows of the past few years.
"I definitely feel like obviously I've grown up a lot and my sound is a little bit more mature now and I'm kind of really digging deep in this album. And it's very raw. It's very emotional and it's kind of all out there," says Leona.
"Thunder" is the album's third single. The full album is out in the second week of September.
"I wrote 'Thunder' about kind of the rise after the fall. Like when you've been through something and you're trying to kind of collect yourself and get yourself together and really muster up the courage to continue going on. It's all about that fight really inside you and that strength and that's why I wanted to put it out there."
Changing label and management can often transform a star's career. "I Am" is Lewis's fifth studio album and has taken two years to produce.