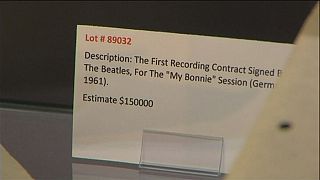 The first recording contract ever signed by The Beatles is up for auction in New York next month and is expected to sell for upwards of 150, 000 dollars (130, 600 euros) .
It was signed in 1961 during the group's early days in Hamburg when drummer Pete Best was still in the band.
The contract is part of a collection of 300 lots of Beatles memorabilia assembled by the late German record producer Uwe Blaschke.
"It's a very important career milestone for them, because it's their first professional recording", said Dean Harmeyer of Heritage Auctions. "But the fact that the contract leads them on to their manager Brian Epstein, that it leads on to the recording contract with EMI, makes it absolutely crucial to the story."
The contract was for a record that didn't even carry the name of The Beatles. "My Bonnie", a German song, was credited to Tony Sheridan & The Beat Brothers. The record company thought the The Beatles an unsuitable name for a German audience.
Other items on sale include photos, documents and autographs related to the time the band spent in Germany in the early 1960s.
"They spent a lot of time in Hamburg, Germany, basically from 1960 to middle of—part of 1962, the end of 1962", said Hermeyer. "They spent a lot of time in Hamburg performing in nightclubs and a lot of hours on stage. This is where the Beatles really kind of gelled musically and became the most dominant musical force that the 20th century ever knew."
Other items for sale include a Bjarton 12-string acoustic guitar from 1970, a 1965 autographed Austrian menu and an autographed copy of the group's first hit single "Love Me Do," which is expected to fetch 10,000 dollars (8,700 euros).
Beatles memorabilia is always in high demand. A guitar played by George Harrison in 1963 sold for 490,000 dollars (426,000 euros) in New York in May, and a collection of John Lennon manuscripts and drawings for two books he wrote in the mid-1960s sold for 2.9 million dollars (2.52 million euros) at a Sotheby's auction in 2014.
The auction will be held in New York on September the 19th after a traveling exhibition of some items to Beverly Hills and Dallas.