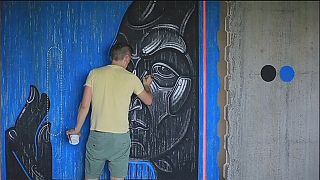 A graffiti artist at work in a warehouse is a common-enough scene,
but 27 year old Ukrainian painter, Serhiy Radkevych , or Tek as he prefers to be known, paints street art of an almost entirely religious nature.
The Lviv Arts Academy graduate became drawn to religious art after he helped decorate the interior of a local church.
However in a country where religious iconography decks the walls of almost every home, Radkevych is keen to point out that his work is secular.
His latest wark, "Renaissance" was created jointly with French artist, Amir Roti on on the walls of Lviv Music School.
"The graffiti I create on the walls I'd call secular works on religious or Christian themes rather then iconography. Because iconography has to correspond to the place of its functional purpose, an icon has to have its place. For example an angular icon has to be at home, whilst a traveller's one has to remain with the traveller," says Radkevych.
Silence is crucial for Radkevych who usually prefers to work in abandoned buildings on the outskirts on Lviv where he can get some time alone to visualise his ideas. But he also works on canvas blending paint with natural elements like soil, moss and leaves.
"Working with moss was very interesting, but at the same time very difficult because basically what you do with your graffiti in this case is you scrape it out and it was quite hard because I was doing it for the first time and I had no experience, whilst when I use paint I know how paint behaves," he says.
Radkevych manages to make a living from his art and is well known and respected locally by both the art and religious worlds. He is also benefiting from the upswing in attention his country is getting in the international media, which is gaining greater exposure for the country's artists, too.