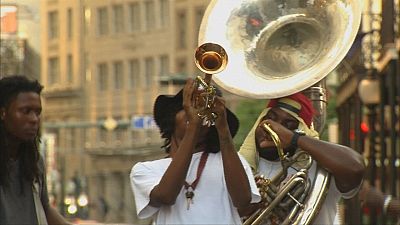 One thing Hurricane Katrina could barely disturb was New Orleans' Musical heartbeat.
The flooding may have devastated the city a decade ago but non-profit organisation Habitat for Humanity built a low-cost "Musicians' Village" in one of the city's residential neighborhoods.
Years later, dozens of the homes are inhabited by musicians keeping local styles alive and a vibrant music culture continues in the city.
Concerned that musicians would not be able to move back, two of the city's most famous musicians banded together with Habitat for Humanity.
Habitat for Humanity's Executive Director for New Orleans Jim Pate says the idea to build a Musicians' Village within New Orleans was sparked by a phone call with Harry Connick, Jr., and Branford Marsalis.
"So Harry and Branford, and their agent, Ann Marie Wilkins reached out to me just six-eight weeks after the failure of the levees, and said, 'what can we do to get our musicians back? We want them back. We want their homes to be affordable, because of all the devastation, rents on what was available were skyrocketing, and we want them to have the sense that New Orleans is their home, and their home for a lifetime," says Pate.
The Musicians' Village broke ground in April 2006. Fueled by an army of 40,000 volunteer labourers who helped with construction, in the following years 72 single-family houses were built. Ten "elder friendly" duplexes were also built.
This meant musicians could move into the village for only $80,000. A unit is now estimated to be worth about $140,000.
Rents for musicians are about $600. The average rent in New Orleans is now $1,100.
Approximately 170-180 people currently live in the village. People like Helen Gillet, a classically trained cellist. who first moved to New Orleans 13 years ago to learn how to incorporate improvisation into her musical repertoire.
A few years later the roof blew off the apartment she was renting, when Hurricane Katrina struck. A friend recommended that she apply for the Musicians' Village.
The move has helped her grow as an artist, she says. Not only does she collaborate with other musicians in the village, but just having an affordable home has allowed her to thrive musically.
"As soon as I moved in here, I was able to relax enough not to worry about where the next rent check was going to come from, and not worrying about where I was going to live in six month, or a year, and constantly focusing on that. And, I immediately made an album," she smiles.
Hurricane Katrina was ultimately responsible for 1,833 deaths and damage estimated at $151 billion, including $75 billion in the New Orleans area and along the Mississippi coast, according to the United States Census Bureau.
While New Orleans is still far from rebuilt, the range of individual and collective responses to the disaster, 10 years on, paints a more optimistic vision of its future.