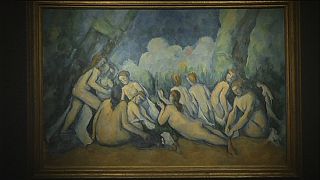 The National Gallery in London is inviting art lovers to discover a different way of experiencing paintings. 'Soundscapes' has commissioned musicians and sound artists to select a painting from the collection and compose a new piece of music or sound art in response.
The experience encourages visitors to 'hear' the paintings and 'see' the sound.
Minna Moore Ede is the curator of 'Soundscapes':"We have invited two artists from the contemporary art world, two composers from the classical music world and then we tried to extend the reach by selecting one natural sound recordist and at the other end of the spectrum the most of-the-moment urban sound, the young DJ Jamie xx."
New York-based composer Nico Muhly created an audio response to his favourite art work 'The Wilton Diptych', a 14th century portable altarpiece used for the private worship of Richard III.
#Soundscapes artist @nicomuhly and his team at the exhibition opening party. pic.twitter.com/D0VkwFwOVp

— National Gallery (@NationalGallery) July 7, 2015
"I try to respond to it in a way that wasn't cartoonish, it's not a one-to-one correspondence between how it looks and how it sounds. But instead, what I was aiming to do is surround it with material that's always in motion, so I worked with a sound designer called Jethro Cooke to make sure that everything is moving slowly in the way that with art that exists in 360 degrees you'd have to move around it to experience it," said Muhly.
Turner Prize-winning British sound artist Susan Philipsz created an audio accompaniment for 'The Ambassadors', a 16th century double portrait by Hans Holbein the Younger.
Susan Philipsz composition inspired by The Ambassadors Listen: http://t.co/3HKYBdPuQv#Soundscapes@NationalGallerypic.twitter.com/p3JQaJOhj9

— BBC Front Row (@BBCFrontRow) July 7, 2015
French-Lebanese composer Gabriel Yared chose 'Bathers' by Paul Cezanne for his artwork.
Discover my piece inspired by Cézanne's Les Grandes Baigneuses, and others at the National Gallery's #Soundscapes ! http://t.co/QxBMYDFgVA

— Gabriel Yared (@YaredGabriel) July 10, 2015
Inspired by the abstract nature of Cezanne's work, Yared positioned speakers around the room, each representing a different instrument allowing visitors to interpret the work how they wish.
'Soundscapes' runs at The National Gallery until 6 September 2015.