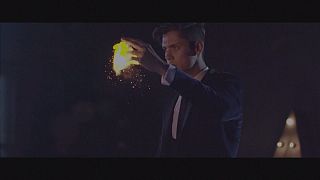 "Impossible" is being billed as the biggest magic show to hit London's West End since Harry Houdini and features death-defying acts.
Escapologist Ali Cook frees himself from handcuffs and a neck brace while submerged in water. The slightest mistake becomes a question of life or death.
"It's just a lot of training," explains Cook. "I mean if you do a parachute jump, you do your checks, but at the end of the day jumping out of an airplane is exactly the same thing. So I am going in a tank of water. I train the guys up as much as I can. They know what to do if it goes wrong but at the end of the day in a run like this it may go wrong one day."
FIRSTLOOK: Hot new images of magic extravaganza ImpossibleShow</a> <a href="http://t.co/kvhLr58n6k">http://t.co/kvhLr58n6k</a> <a href="http://t.co/tEKOf3vT8C">pic.twitter.com/tEKOf3vT8C</a></p>&mdash; OfficialLondonTheatr (O_L_T) July 29, 2015
Member of the Magic Circle Katherine Mills relies on psychological trickery to get a rise from the audience.
"Magic is really captivating because it takes people back to that childlike wonder. A lot of adults don't get that anymore."
The show mixes traditional sleight of hand with state-of-the-art magic, the influence of the original magical trailblazer are evident for the performers.
"I risk my life on stage. One hundred years ago Harry Houdini said 'people will come to see you die'. That's why there are thousands of pictures of him hanging in London, hundreds of feet up in the air in a strait-jacket," explains daredevil Jonathan Goodwin. "And thousands of people below watching him because they wanted to see what was going to happen. And I don't think we've changed very much and that's kind of my job, to give people that thrill. To take them as close to the edge as possible."
Impossible runs at the Noël Coward Theatre in London until August 29.