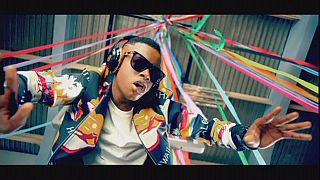 American rapper Silento's debut single Watch Me has become a viral dance anthem, released on Youtube in January it racked up more than 50 million hits in five months.
It's popularity was boosted by a campaign calling on people to send clips of them dancing their version. It became huge across social media platforms Youtube and Vine.
In light of the single's success Capitol Records came calling and he was signed on May 1st, but the 17-year-old sees the success as inevitable.
"I wasn't really surprised. Where I'm from a lot of people look up to me a lot so I was already doing music, I already had a fanbase so once I did do something it was automatically jumpin, so when it was a dance, you know, everybody gonna do that."
Watch Me capitalises on pre-existing dance trends name-checked in the track, including the 'nae nae' which has spread from Silento's native Atlanta to Youtube and across the globe.
Setting his sights on the future, he says he wants to expand his repertoire.
"Well, a little bit singing and rapping. I might throw a new dance song in there. I've got a couple up my sleeve but right now I'm not trying to keep people to focused on me as a dancer, I'm trying to show them myself as an artist."
Silento has already got celebrity admirers, with one of his favourite artists Usher emulating the signature moves of his breakthrough hit.