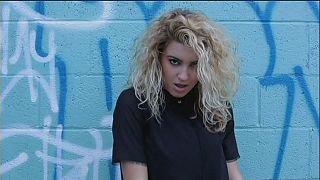 Since posting her first video on YouTube at the age of 14, American singer songwriter Victoria Loren "Tori" Kelly has been working hard to achieve her dream.
After appearing on a series of talent contests, it seems celebrity is at reach for the 22-year-old, whose debut album, 'Unbreakable Smile', has been released through a major record label.
"Releasing music in general is, I think, an accomplishment. And the fact that I get to put out a whole album of songs that I just put my whole heart into and people are responding really well to it, it's the best feeling in the world, because these are songs about my life, too, so it's kind of like I am just throwing myself out there and people are into it, so it's really cool to be able to do what I love," she says.
Featuring collaborations with LL Cool J and Ed Sheeran, the album offers tales of love, admissions of vulnerability and assertions of independence, all penned by the artist herself. It carries the name of her debut single, which she says identifies with a whole chapter of her life.
"There's the love songs and there are the heartbreak songs and the sad songs and I think with my album there's a lot of life songs, is what I call them. There are songs like 'Unbreakable Smile' and there's a song called 'Funny' and it's just talking more about my journey as an artist and my career and the ups-and-downs and all the 'No's' that I got, and just kind of getting through that and then still being able to smile at the end of it. And I think that's kind of the theme of the album, which I hope people can connect with," she explains.
Praised by music critics for her incredible vocal ability, the artist was once turned down by Simon Cowell himself who called her voice annoying.
She now enjoys the backing of Justin Bieber's music manager, Scooter Braun, and Max Martin, the Swedish producer who has ruled the Billboard Hot 100 for over a decade.