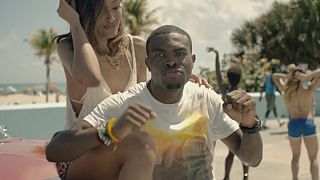 Jamaican singer OMI's catchy hit 'Cheerleader' is enjoying a second lease of life thanks to a remix by 20-year old German producer Felix Jaehn.
Now, three years after it was initially released, it has become a global success, reaching the top-ten in thirty countries and clocking up more than 230 million views on YouTube.
OMI, who dubs himself a fan of my fans is thrilled: "Monumental is the word I can think of right now," he says. "You know, I'm not from the US. So for an artist who is from a little island in the Caribbean it means a lot. It's a very proud moment."
OMI knows his history: it's been nearly a decade since a Jamaican artist topped the Billboard Hot 100 – Sean Paul did it with 'Temperature' in 2006.
The self-proclaimed country boy from the rural Jamaican parish of Clarendon credits his small town upbringing for keeping him grounded as his career skyrockets.
"Well, we've seen many heroes from Jamaica, you know, and to be put in that class or to be looked upon on that level is overwhelming. It is. You know, and it's pretty big shoes to fill. I'm a size eight, but I'll try my best. You know, I'll try my best to live up to the expectations, to uphold this flag musically and just do what I know," he says.
The Jamaican singer is now staying focused on his next single, due out in August, and on his debut album, scheduled for release in the autumn.