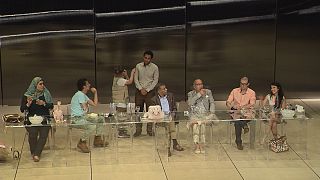 "The Last Supper," directed by Egyptian Ahmed El Attar, depicts a society that fails to get rid of a tyranical figure – and all forms of despotism.
Set in Cairo, the play has been performed
at the Avignon Festival in France.
"The subject is beyond political change, it includes the ambition of social upheaval. Art reflects the society when the society is no longer able to speak," said El Attar.
"The Last Supper" is described as a representation of Egypt's upper class.
By the time the post-revolutionary country faces political, economic and social challenges, the characters appear care-free, frivolous and have contempt for the people.
"This is a window that opens on that social class, from the beginning to the end of the play. All dialogue from this social layer is trivial," explained actor Boutros Ghali.
"People are only interested in money. They have no interest in what is really happening."
The director uses language and positions of the ruling class to depict an air of emptiness. It is a class shown as being artificial and unrealistic.
"This type of family is characterised by acrimonious and fragile relationships. They pretend that everything is fine," said actress Nanda Mohammad.
"Everything is based on appearances and what appears in the eyes of society and people."
"The Last Supper" shows the ruling class as trivial, authoritarian, contemptuous and greedy. A group of people who want to dominate, an elite that want to block any change.
"Their life is empty and there is nothing else. There's a master of slaves relationship," commented actor Sayed Ragab.
"A class that lacks everything. The dialogue is meaningless in the room. This proves that the class is superfluous."
The characters are seen in the play as wallowing in a void created by themselves.
The Egyptian director draws on his life experience, a man who is said to have realised as a teenager that words can mean nothing in his country.
"The scene is absurd. I see that reality is absurd.So I tried to keep it a bit absurd, in a very realistic setting," explained El Attar.
"This class evolved in a downgraded and unchanging universe. It refuses change, which I consider absurd."
"The Last Supper" gives one interpretation of Egyptian society. A performance composed by a director who is said to put words at the heart of his work.
Although Egypt based, the play could well strike a chord beyond the country's borders.