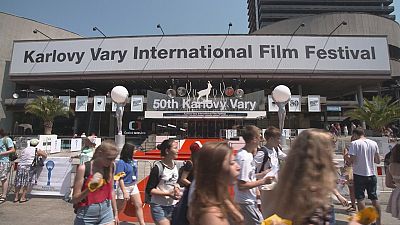 The Karlovy Vary Festival has cemented its reputation as Central and Eastern Europe's biggest cinematic event and celebrates its 50th anniversary this year.
The festival promotes young directors, there are no less that seven directorial debuts in competition.
Among those in the mix for the Crystal Globe is 'Heil' by German director Dietrich Brüggemann.
The film is a radical comedy which spares no one and nothing neo-Nazis, anti-fascists, the media, the police, the government.
Ladies and gentlemen, this is the first teaser for my last film. Or rather latest. Or maybe last. http://t.co/eArq5G4xgd

— Dietrich Brüggemann (@dtrickb) March 25, 2015
The director spoke about his motivation for the film: "We had this scandal in 2011 in Germany when a case surfaced where three neo-Nazis went underground in the late nineties and kept assassinating people, detonating bombs everywhere. Authorities never got on their track. This whole thing blew up in 2011 and there was a huge debate going on…I was like "everything that happened is so absurd and so grotesque, it feels like a satire, someone should make it into a film."
In the film a gang of neo-Nazis kidnap an Afro-German author suffering from amnesia before leaving for Poland to start an invasion.
The director saw it as a unique opportunity to marry two worlds:"Well, I always wanted to do a crazy comedy, I love that. I love Monty Python and all kind of other things. I had this in my mind for quite a while and then this idea for the subject made me think 'oh, this is two things I could put together now: my love for the genre of crazy comedy and this political issue that I've had been thinking about all the time."
Ukranian director Eva Neymann is back with 'Song of Songs,' her third feature,
its a stylized film that uses the stories of Sholem Aleichem to create the now-extinct world of Russian Jewish shtetls.

'Song of Songs' Director Eva Neymann on Re-creating the World of Russian Jewish Shtetls http://t.co/48BmSHs9WX via @Variety

— ukrainianjewishencou (@ukrainianjewish) July 6, 2015
The festival runs July 3-11 in the Czech Republic.