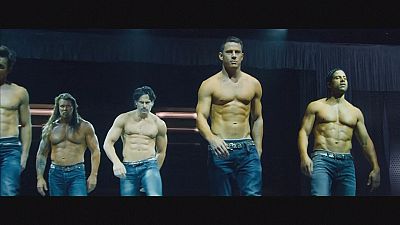 Male stripper 'Magic Mike' is back for a second bite of the cherry in 'Magic Mike XXL'
directed Gregory Jacobs.
Three years on Mike, played by Channing Tatum, owns a furniture business and is gradually lured back into strip-tease when his troupe, the Kings of Tampa, hit the road to Myrtle Beach to put on one last blow-out performance.
The actors train and train, but does the buff body last, not according to Channing Tatum:
"No, absolutely – that lasts for about five days, when we shoot it and that's about it – you time it until that day and then it just, you lose it immediately."
Fellow actor Matt Bomer agrees:"Hell, no. That's a time and a place deal, right there, once they call cut, it's back to cheeseburgers, pizza, whatever we've been missing out on."
The 2012 'Magic Mike' movie saw flocks of women heading to the cinema, but the filmmakers believe its a movie for everyone.
Actor Adam Rodriguez explains the general appeal: "If you've ever watched a sports film that you love, this movie kind of has that band of brothers feel. We're all manly men and represent ourselves as men and think if you can identify with having a great time with a bunch of your buddies, on a road trip, there's no reason why you couldn't come to this movie and have a great time."
The original movie made $167m worldwide from a modest $7 million budget.
The film is released in US cinemas on July 1 and in UK cinemas on July 3, 2015.