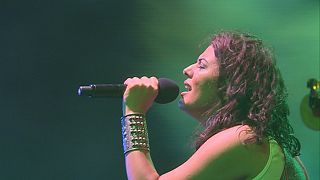 With her unique combination of fiery contemporary sounds and Egyptian vocals, Dina El Wedidi has not only conquered Egypt's underground music scene but also made a name for herself abroad.
The 27-year old Egyptian and her band were among the artists invited to perform at the recent 'Fête de la Musique' at the French Institute in Cairo.
"My music deals with a wide variety of themes: social, human, environmental and political issues. Of course, as an Egyptian citizen, I mainly address issues that affect Egyptian society," she told euronews.
The young artist says she is inspired by the heritage and identity of Cairo, where she was born, but that she also seeks inspiration far beyond the limits of her home city. She is actively involved in the Nile Project, an initiative aimed at transforming the Nile conflict through music and education.
"We try to speak a new language and address new themes. Our goal is also to put forward the work of musicians from all over the country," she explains.
El Wedidi founded her own band in 2011, when the Egyptian Revolution broke out. That year, she had a big hit with one of the songs from the musical she took part in, 'Khalina Nehlam' or 'Let us dream', which captured the spirit of the Arab Spring. She got noticed by world-renowned Brazilian musician Gilberto Gil who took her under his wing.
"We are just musicians. We play music, then we wait and see how the audience reacts to it. It's a sort of artistic experience, and generally, we are pleased to see that they agree to play the game," she smiles.
"Our performance is linked to the public's response. Ultimately, it's the audience's feedback that encourages us to continue making music."
El Wedidi's songs reflects different moods and styles, from jazz to folk and underground rock, a combination that can't be labeled under one category – a symbol a new musical genre that has emerged in Egypt in the wake of the Tahrir Square Revolution.