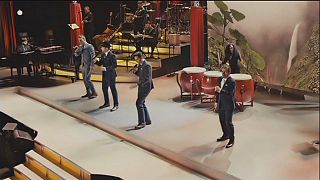 The Tenors are taking their signature operatic pop music on tour as they release their fourth studio album, 'Under One Sky'.
The all-male quartet say they went through many songs before choosing the 13 tracks for their new album and the 17 songs for the deluxe version.
"There were more that we recorded and then there were hundreds more that we considered, and many that we demo-ed that didn't make the final cut. But it was really hard and, I mean, that's a good dilemma to have. There was so much good material between songs that we wrote for the album, I think we wrote about eight songs out of the ones that were chosen, for the final record," says band member Fraser Walters.
The record includes covers of popular hits like Eric Clapton's 'Tears in Heaven', 'Lean On Me' by Bill Withers and the Queen classic 'Who Wants To Live Forever', as well as the soaring original title track, 'Under One Sky'.
"When you go for a song that everybody knows and loves for years and years you've got to be careful," explains band member Clifton Murray. "You know, you've got to make it different, you've got to make it your own but also respect the words and the melody because people love it for a reason. And you've got to take it for what it is – make some changes but, ultimately, the important thing is to make it your own and be able to step back and feel like you put your stamp on a beloved song, and we feel like we did that."
The Canadian quartet will be touring North America from September, with gigs in both the United States and Canada.