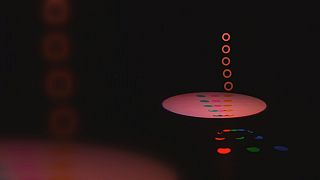 Every year at the end of June, electronic dance music fans from all over the world converge onto Barcelona for the Sónar festival – a three-day event which started back in 1994, and has grown to become a major rendez-vous on the global EDM calendar.
Now in its twenty-second year, the Sónar festival is reinventing itself, placing creativity and technical innovation at the heart of its programme, with a host of cultural events organised day and night by digital artists throughout Barcelona's Montjuïc parc.
On offer are some of the most innovative shows in EDM, including 'Double Vision', an audiovisual show by Australian laser artist Robin Fox and German electronic music guru Atom TM, which combines on stage lasers, video and experimental sounds.
"For me, the collaboration that he suggested posed all these interesting questions about the more scientific work that I was doing with sound and vision and the more pop-oriented work that Uwe was doing. And he suggested that together we could potentially create something that had a synergy that we couldn't achieve in another way," said Robin Fox.
The man behind Atom TM is Uwe Schmidt, a musician from Frankfurt, who lives in Chile and has been attending the festival since the very start: "It remains… how could you say? A very friendly festival. It's not turned into something obscene. Because often, as soon as a festival reaches a certain size, it becomes obscene," he said.
This year, the festival broadened its offer with Sónar+D, a trade show that looks at the digital transformation of the creative industry.
And there was also the Music Hack Day: 24 hours during which a hundred hackers from all over the world got together to invent new musical devices.
"Some of the inventions are very practical," explained Alba Rosado of the Music Technology Group. "For example, there are interactive shoes that try and teach you how to dance – this hack is still in the making. Then, there's one just over here (shows stand), where they are building a keyboard using wine glasses. They fill them up with different amounts of liquid and try to create a different musical note with each glass."
At night, visitors could chose between bigger acts across five different indoor and outdoor venues, including an effective EDM performance by US DJ Skrillex, Ireland's Róisín Murphy and her new mask show, not to mention a blast from the past with a performance by the legendary Eighties band Duran Duran.
"For us, being part of a big electronic event makes perfect sense," said the band's Nick Rhodes. "Because we've always had a big foot (band member John Taylor shows his foot)… There it is! That is the foot that is in that side of music."
Born 37 years ago in Birmingham, it was was one of the leading bands of the New Romantic movement that emerged in the late Seventies and early Eighties in Britain. Duran Duran is now preparing to release its latest album in the autumn.
"We put a sort of reunion tour together about nine years ago… And the musical landscape had changed, and festivals had become so strong, particularly in Europe. So we thought 'Ok, where do we fit into this, and how can we fit into this?'," explained band member John Taylor.
Other bands included British futuristic synth pop act Hot Chip, who played night and day over two days to promote their new album.
"We haven't played twice before," smiled the band's Al Doyle. "It's new for us. We've got to make sure that we hold something back a little bit and don't get too exhausted before we have to do the show again tomorrow."
Euronews asked them about the title of their new album 'Why make sense?'.
"In general, it seems to sum up our career, which is in some ways a little bit non-sensical, so we've just decided to give up on trying to make sense!," explained band member Joe Goddard.
With more than a hundred thousand tickets sold, this year's festival was branded a success by critics who described its quality control as unfalteringly high.