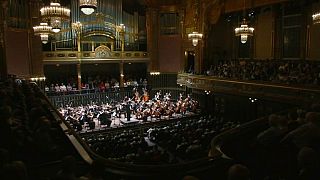 Franz Liszt founded Budapest's Liszt Academy 140 years ago and in that time it has established a global reputation for musical excellence.
It recently won the EU's Nostra prize for the conservation of cultural heritage. The academy hopes an ambitious refurbishment programme has laid the foundation for another successful 140 years, but one based on the restoration of the original interior using the original plans, period photographs, and descriptions.
"We have not only managed to maintain the interest in the academy but we have been able to raise it. It's partly thanks to the beauty of the building but also, and this is why we won the Europe Nostra Prize,
because we not only managed to restore the beautiful old spaces in a way that is worthy of heritage preservation but we equipped the
building with 21st century technology that meets all the requirements," says rector Andrea Vigh.
In 1875 the academy began with five professors and 38 students. Today it has a faculty of 168 and over 800 students split in two; the Academy and the Academy Concert Centre.
Eva Marton, one of the world's top sopranos, teaches here and believes that the special atmosphere comes from the spirits of the greats of the past who played within its walls.
"Here you can hear and feel the spirit of the ancestors every day and I come to work here every day with that same devotion and love and teach from morning to evening to give back to my students the
devotion I received here. And also, hear the spirit of such composers as Bartok, Kodaly, Liszt himself, or Ligeti," she says.
Budapest, a city of two million people, has no less than six full-size concert halls, and the city has a bold marketing plan to sell the former imperial co-capital to tourists as a music destination.