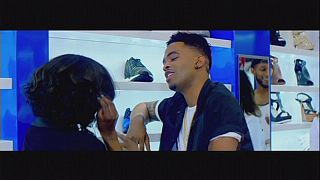 Many songwriters have made entire careers writing for other performers. Only a few have emerged as stars in their own right after years of making hits for others, and had their name up in lights.
Elijah Blake is determined to be the next, and after eight years penning tunes for, among others, Rihanna, Usher and Justin Bieber his first solo album "Shadows and Diamonds" is about to drop.
"It all began with the dream of me singing as a little kid, singing in church, and writing songs in poetry contests, entering poetry contests and wanting to do that. I feel like I had to. It was a necessary evil to write songs for other people so that I can have creative control. And I feel like that's what I have now," he says.
Blake signed his first record deal aged just 16. Now an experienced 23-year-old, this Floridan boasts eclectic music tastes, and says they can be heard on the record, whose themes revolve around his high school sweetheart.
"It's not just typical standard what people would expect in soul music. I'm playing with electronic elements and playing with all types of other cool textures and elements. So I feel with the album, that's what it is, it's about experiences that I went through with my first love in high school, my high school sweetheart, and my first heartbreak, my first distrust," he sighs.
Chicago-based hip-hop producer No ID is at the controls, and the album is out towards the end of this month.