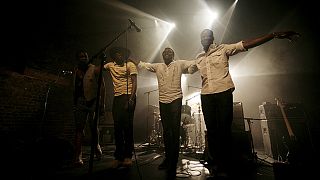 Songhoy Blues, a 4-piece band from Mali, have released their first album 'Music in Exile'.
The band formed when Islamic extremists banned music in their home town of Timbuktu and they were forced to flea to the Malian capital of Bamako in 2012.
Aliou Toure, singer and guitarist explained: "Music was censored, and there was no organised State and that coincided with the coup and all sorts of other problems too. It was jihad, thieves had their hands cut off, you got whipped for chatting to girls, if they found music on your phone they took it away, or smashed it up completely. If they caught you with an instrument they would break it."
At first the band played at friends' weddings but were then discovered by the Africa Express Project, which aims to bring African music to mainstream attention.
"The words of a song are often more important than any political speech" said Aliou Toure. "They spread further, everyone listens to them everywhere."
'Music in Exile' is in shops and online now.
Listen to the album here