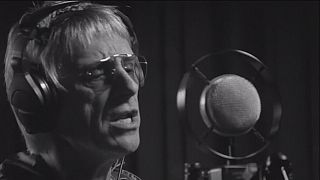 Paul Weller has ditched the acoustic guitars for his latest album 'Saturns Pattern'.
It's the 12th studio album by the legendary British musician, best known as the frontman of iconic rock band The Jam.
He says the recording process began in earnest when he headed into the studio, ditching a batch of pre-written tracks on the way: "I knew what I didn't want to make but I didn't know what we should be making.
"I just wanted to hear something fresh, something new and I had no idea what that would be. So, you know, like most albums really, once you get two, three, four songs under your belt, it starts to take a life of its own and it seems to take a form and then it's up-and-running, you know."
With the help of bandmates Steve Cradock and Andy Lewis, and members of psychedelic jazz band Syd Arthur, Weller found the sound he was looking for: "I didn't want to have an album of more traditional arrangements and acoustic guitars which these other six or seven songs I'd written beforehand were like – good songs but I didn't want to make an album like that, of acoustic songs," Weller explains.
"I suppose the main thing is that there's good songs on it, you know. There's good melodies and a good song is a good song, you know. But just the setting around the good song could be whatever we wanted it to be really and we were having fun experimenting with it."
Paul Weller's world tour kicks off in early June in North America, before a string of summer gigs across Europe including at the Glastonbury festival, in London, Madrid and Rome.
His latest album, 'Saturns Pattern', is out now.