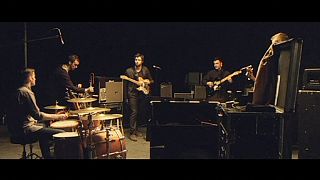 After a three year break, The Maccabees are back with the first single from their upcoming album.
Explaining the gap since their last record, the band they wanted to ensure quality and are now happy with the result.
As well as an album release on the horizon, the London-based band are heading back out on tour along with some very famous friends, British rock band Mumford and Sons.
"We are friends with Mumford, we took Mumford and Sons on their first proper tour about 6 years ago and they were supporting us. Actually the first time we met them they were Laura Marling's backing band when Laura came on tour with us, even before that, so we've known them for quite a long time. So obviously since then they've gone onto global domination and they're taking us to America," says the band's guitarist, Felix White.
The Maccabees' North American tour with Mumford and Sons kicks off in Brooklyn, New York on 2nd June. As well as supporting the banjo-wielding giants, the Maccabees will be playing some of their own, intimate gigs: "For me, personally, our gigs are always the best ones," says White.
"Even if they are a much smaller shows, just because I think there is always a general good will about Maccabees shows wherever we play, however big they are. And I really love being part of that and I wouldn't want to go to America without playing our own gigs because I always think they're the best ones, really, in all honesty," he adds.
Following their North American tour, the band will be giving concerts across Europe, including at the Glastonbury festival, as well as in Poland, Germany and France, before returning to the US for a couple of gigs in Texas in October.
The Maccabees' latest single, 'Marks To Prove It', is out now. Their upcoming album of the same name is due out in July.