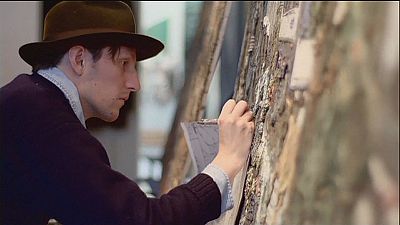 From a distance, his artworks look just like oil paintings on giant canvases.
But get closer, and you will notice Henry Hudson's works are made of something that will probably seem quite familiar to you: plasticine, a modelling clay popular with children.
Invented by an art teacher in the late 19th century, Plasticine experienced a revival in the Eighties when Nick Park used it in his famous 'Wallace and Gromit' films.
The young British artist explains that he turned to Plasticine as an art student because he couldn't afford expensive oil paints: "I like this idea of taking something that's maybe a cheap, throwaway thing – like something you stick in your top drawer – and elevating it to something that's maybe a bit grander or an "artwork". So in that sense that excites me. I feel maybe that is the purpose of art, to try and elevate something," he explains.
Working with Plasticine is a challenge – even for Hudson, who has been doing it for nearly a decade.
The time-consuming process requires a team of five assistants to mix, mould and shape the clay. Even then, it can take up to three months to create a finished piece.
"It (Plasticine) only comes in about ten colours. I have to take those ten colours and, rather like paint, you have to mix them. So to get different versions of flesh you have to mix your reds and yellows. I do this by using hot plates from kitchens, so I have a lot of hot plates in my studio. And I have a small team of assistants and we spend quite of lot of time mixing it, rather like you would making bread or pizza dough or something," says Hudson.
Henry Hudson's largest solo exhibition to date runs at Sotheby's S2 Gallery in London until the end of May. A modern day interpretation of William Hogarth's 18th century narrative A Rake's Progress, it includes ten large-scale Plasticine paintings, ten original drawings and 30 smaller studies.