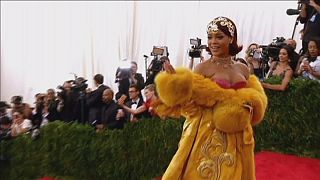 It was clad as an omelette that Rihanna attended the Met Gala, the annual fundraising event for the benefit of the Metropolitan Museum of Art's Costume Institute in New York City.
The singer's was just one of hundreds of eye-popping outfits to grace the red carpet at what is considered one of the most exclusive social events in New York and one of the biggest fundraising nights in the city with a record of $12 million raised last year.
The event marks the opening of the Costume Institute's annual fashion exhibit and guest are expected to choose their outfits to match its theme.
Entitled 'China Through the Looking Glass', this year's show explores the influence of Chinese art, imagery and culture on Western fashion and design, from Imperial China to the present day.
More than two years in the making, the exhibit takes visitors on a journey that shows how Western artists and fashion designers, from John Galliano to Jean Paul Gaultier, found inspiration in all things Chinese, from the elaborate embroidered costumes of Imperial China to the military garb of the Cultural Revolution.
"I think that the size of the show is quite proportionate to the concept. It really looks at the history of the influence of Chinese aesthetics on Western fashion, which dates back to the Roman empire. It doesn't just cover costume, it covers decorative art like lacquer, porcelain, jade, bronzes. So the impact has been enormous on Western fashion," said curator Andrew Bolton.
One of the most striking elements of the exhibition is how it combines its three main elements – fashion, film and decorative art – and brings together different historical periods and global perspectives, often in one glass case.
Running until mid-August, the show also features clips of Chinese cinema classics such as 'The Last Emperor' or 'Farewell My Concubine', screened in rooms where the Western gowns they inspired can also be admired.