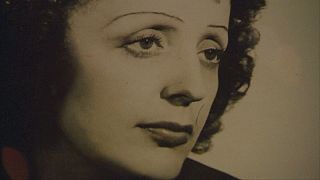 An exhibition dedicated to French singer Edith Piaf, whose ballads about love and sorrow turned her into an international icon, has opened in Paris to mark the centenary of her birth.
Among the 400 objects on show at the Bibliothèque Nationale de France are posters, letters, manuscripts, photographs, film clips and even her signature black dress.
"Thanks to this layout and to the audio-guide, which offers an extra sound dimension to the exhibition, you get a real taste of Piaf's universe, or should I say of her universes, and we hope that visitors will really enjoy the show from beginning to end," said curator Joël Huthwohl.
Edith Piaf had a song for every occasion, most of which mirrored the drama of her colourful life.
The daughter of street performers, she was abandoned by her mother and spent part of her childhood in a brothel run by her grandmother. The singer later said she believed her weakness for men came from mixing with prostitutes. I thought that when a boy called a girl, she would never refuse, she would later say.
"I feel very emotional, I find that she's a remarkable woman, everything she went through in her life and all that she achieved in such a short time, it's amazing. Her voice is just so strong and powerful," said one visitor from Switzerland.
"I was lucky to live in Menilmontant, in the very same street as Edith Piaf, which is why I really wanted to see this exhibition, which is very good as it gives a truthful account of her life just the way it was," said another.
The singer died in 1963 at the age of 47.
'Piaf', an exhibition chronicling the iconic French singer's life, runs at the Bibliotheque Nationale de France in Paris until the end of August.