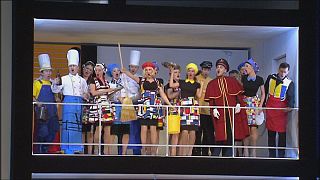 One of Mozart's most famous operas, 'The Mariage of Figaro', is returning to Moscow's Bolshoi after a 20-year break.
The last time the masterpiece was performed on the famous stage was in 1995.
Musical director, English conductor William Lacey, already conducted a semi-staged production of the opera last year which was a hit with audiences in Moscow, St. Petersburg and Norway.
"My job is just to go into the score and to try and understand what he wants and what he is telling us and to do justice to this masterpiece. So I try and make the work about serving Mozart and not about advertising my own brilliance," he says.
Lacey has invited singers from the Bolshoi and beyond to take part in the new staging. Among them are both novices and seasoned performers. Moscow-born Alexander Vinogradov has performed at opera houses around the world, including Milan's La Scala, the Royal Opera House in London and the Opera National de Paris.
He says he loves this opera, but its length – 3,5 hours – and the intricate the plot put a lot of pressure on the performers.
"People often forget that everything happens over the course of just one day and the full name of the opera is 'The Mad Day, or The Marriage of Figaro'. And this crazy day has to be be crazy from the very beginning to the very end. To live through such a crazy day… at the end you feel like this (breathes out) – well, it's the same at the end of the performance!," he exclaims with a smile.
Leading the production, prominent director Evgeny Pisarev said he wanted to highlight the festive spirit of the opera, a colourful celebration of love and life set in modern times.
'The Marriage of Figaro' premieres at Moscow's Bolshoi theatre late this month and runs again in June.