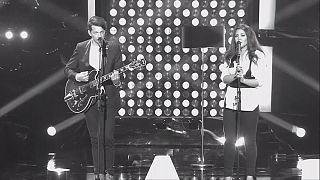 The Eurovision song contest is just around the corner and among the favourites are Elina Born and Stig Rästa from Estonia.
The singer and songwriter duo are hoping to captivate audiences with their tune "Goodbye to Yesterday" at the competition in Austria next month.
Already well known in his own country, 35-year-old Stig wrote the tune a few years ago but says it should stand the test of time.
"I think this song is kind of a timeless piece. You can't say if it's written like in this year or maybe ten years ago and hopefully it will last for another ten years. So it would be suitable for Eurovision because we didn't want to do any like Dubstep or something which is popular right now or Drum and Bass or whatever. So I thought it would be kind of a timeless song."
With so many people competing many acts choose to use huge outlandish performances to get themselves noticed.
But 20-year-old singer Elina says they have confidence in the song alone.
"It's going to stay simple. We're not going to do something huge, no big surprises, nothing like that because the song itself is simple and just beautiful and we like to hit with that."
The pair will soon find out if this is a good tactic.
The first test for the song will be on May 19 in Vienna when they compete in the semi-finals along with 15 other countries.