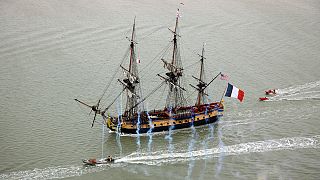 By
Euronews
with
JOEL CHATREAU, EURONEWS - AFP
Two hundred and thirty five years ago, in support of America's push for independence, France's top general ordered the frigate Harmione to cross the Atlantic to confront the might of the British navy.
Our technical skills have led to the revival of several traditional crafts...A whole craft village has grown around the Hermione over the years
Today, the Hermione sails again, perhaps with the ghost of the Marquis de Lafayette on board.
Today's Hermione is a reconstruction, of course, built in celebration of France's midwife role in the birth of a nation. The ship is a faithful time machine, imagined by a small group of sailing enthusiasts based in the port of Rochefort-sur-Mer, in Charente-Maritime, on the Atlantic coast.
"Right now we can say this ship is the most complex to sail and manoeuver in the world. It has 18th century rigging, and it's a warship built for speed. It's just like one of today's ocean racing yachts, except it weighs 1000 tons," says Captain Yann Cariou.
Two hundred men would have been needed to fully crew this ship in the 18th century. For reasons of comfort and safety that's been reduced to 79. Most of the crew are young volunteers who have trained hard to be able to sail the ship in all conditions.
"We climb as high as 50 metres to set the topgallants, and in all weathers, because at any moment a storm can blow up without warning and we have to be ready to furl the sails. We have to climb out on the yards quickly, conquering our fear of heights or any seasickness, because it really moves around up there, much much more than on deck," says crew member Nicolas Chambon.
The Hermione took 17 years to reconstruct, piece by piece. There are 25 kilometres of rope in the rigging and the sails cover 2,200 square metres. The technical skills employed have led to the revival of several traditional crafts.
"We made the linen sails in France, although linen isn't produced for sail-making any more. The rigging is made of hemp, for which we had help from Sweden. A ropemaking team came over to help, and showed us the ropemaking skills, and then continued to teach the young members of the team so they will be able to continue production here in the future. A whole craft village has grown around the Hermione over the years. It will remain, along with a host of "start-ups" of different kinds. We are really proud of that, this economic byproduct we've built around us," says the President of the Hermione association Benedict Donnelly.
During the 1780 crossing La Fayette had no female company. But for the 2015 voyage a third of the crew is female, and some are senior officers.
"I had always wanted to go on a big sailing ship, and now I am. On arrival I was made gunnery Lieutenant , so I have to look after the batteries of six and twelve pounder cannons. During regattas I have to load and fire them and make sure I don't hit anyone, because we don't shoot at the English any more!" laughs Anne-Laure Barberis.
Surprise, surprise, no Englishman boarded the Hermione for the trip, but there are two Americans.
This dream has cost 25 million euros, raised from generous donations, local government grants, and the four million people who have come to visit the shipyard. Once the American adventure is over, Hermione is destined to earn her keep.
"It's a museum ship, for sure, but it's also a roving ambassador for our country and wherever France is present. We need to think about long-term projects in partnerships with host nations. I have suggested we go into the Indian ocean in 2018-19 and sail to Mauritius, just as the original ship did, and then on to India for a new adventure. This ship is built for sailing, and we love sailing it," says Donnelly.
"Life needs to be expanded, and we need to quit our cosseted, closeted lives we spend all out time grumbling about. Life is too small! We need to open up, and let ourselves be carried along by the wind," says prizewinning author Erik Orsenna, a fan of the project.
Last weekend the Hermione quit its port and sailed out along the Charente river and won't be expected on America's east coast until June 5th, when it will be greeted as a renewal of the Franco-American "special relationship" that reached its zenith more than 200 years ago.
Hermione photo gallery