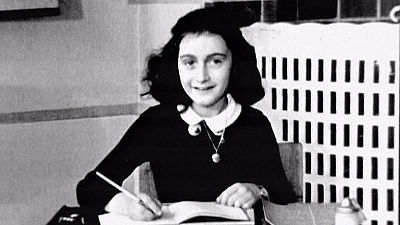 Young diarist and writer Anne Frank is being remembered in the UK 70 years after her death.
The Anne Frank Trust UK has launched a social media campaign entitled #notsilent in which celebrities and members of the public are invited to record themselves reading one-minute extracts from 'The Diary of a Young Girl.'
The book documents her time hiding from the Nazis in Amsterdam.
Gillian Walnes from the Anne Frank Trust UK explains the idea behind the campaign: "We came up with the concept of 'not silent' as a social media campaign, #notsilent. The reason being that, we could have a minute's silence to mark Anne Frank's death, but it wasn't appropriate. Anne Frank could not be silenced. Her voice has resonated across the generations in the 70 years since she died, and she's inspired people throughout those generations to actually speak out in her memory, and try to make the world better, as she wanted to do, but couldn't."
At a ceremony at London's British Library, school children read from
'The Diary of a Young Girl' on hand was Holocaust survivor Freda Wineman she remembered Anne at Auschwitz and Bergen-Belsen
where the young writer was killed.
She said it took some time before people really listened to the stories:
"Well nobody wanted to know immediately after the war. You know, people were busy with making their own lives after the war, after the bombardments, the occupation – it took a while for people to want to listen," said Freda.
An Anne Frank ambassador is Erin Boswork :"It's really inspiring, especially because I'm almost the age she was then. So it's nice to be able to see that even 70 years ago, considering her lifestyle and everything she went through, she still carried the belief of women's rights."
It was Anne's father Otto, the only survivor of the family, who found Anne's diary after it had been saved by a family friend.
The book chronicles her life from 12 June 1942 to 1 August 1944.