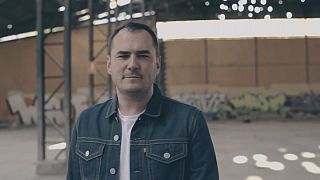 He is a poet, a singer, a guitarist and a songwriter – and perhaps most importantly an engaged citizen.
Spanish artist Ismael Serrano has gone to Mexico to promote his latest album, "La Llamada" (The Call), which reflects on the social crises hitting Spain and other Latin countries.
Known for his eclectic style blending Latin pop, jazz, blues and Bossa Nova, the Spaniard has made his name as a protest singer pointing the finger at social injustice.
"I think there are several factors influencing this album, (including) the crisis in Spain, a terrible devastating crisis that has worsened the situation of most citizens and has revealed the lack of democracy in which we live," he said.
After studying physics in Madrid, Serrano started his musical career in the early 1990's in the Spanish capital, playing the guitar and singing folk music in cafés.
While preparing his latest album last year, Serrano turned 40 and became a father to a baby girl – an experience that only strengthened his social and political engagement, he said.
"There is nothing more inspiring. You reaffirm your belief that you must change the world, it exacerbates your fears," he said.
Serrano's songs are influenced by the "Nueva Trova," the politically charged music movement that emerged in Cuba in the 1960's after Fidel Castro took power.
They also evoke the protest songs that emerged during the Spanish dictatorship of Francisco Franco, as well as the Nueva Canción movement of Latin America.