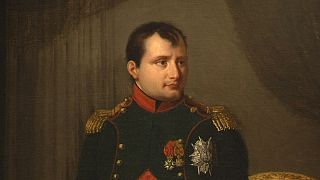 A major Parisian exhibition celebrates the 200th anniversary of the Battle of Waterloo with a look at the monumental impact Napoleon had on the life of the French capital.
Under Napoleon's rule, Paris became the centre of political, diplomatic and societal life during the Great Empire.
In terms of urban history, Napoleon Bonaparte is known as the man who turned Paris into a modern city.
"He had three bridges built, additional pavements, houses were numbered. The water supply system was hugely improved thanks to fountains he had built. Clean water was a big problem at the time. Napoleon was always very concerned by what was going on in Paris, even when he was out on the battlefield, whether he was in Russia, in Moscow – even when Moscow was burning – he was still dictating laws and decrees," says Philippe de Carbonnières, assistant curator at the Carnavalet Museum.
On display are some 450 objects, from the toiletry case Napoleon took with him on military campaigns to a Waterloo-era watercolor proposing an elephant-themed fountain at Paris' Place de la Bastille.
As much as Napoleon transformed Paris, the French capital also shaped Napoleon and his political career, providing a backdrop to his coronation, his marriage his second and final abdication.
'Napoleon and Paris: Dreams of a Capital' is on at the Carnavalet Museum in Paris until the end of August.