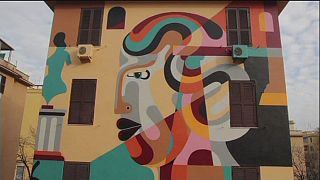 Tor Marancia is the last of several poorer Roman suburbs to get a much needed face-lift thanks to the work of a group of international street artists.
Commissioned by the local authorities, the Big City Life Rome project aims at reviving these neighbourhoods and creating alternative tourism, attracting visitors outside of the city centre.
Jerico, one of the rising stars of Rome's street art, says he chose to paint a mural inspired by Michelangelo's frescoes at the Sistine Chapel: "I wanted to create something quite different to what I usually do, that would bring serenity to the people here. So I chose a remake of the famous artwork of Michelangelo, but with a more natural interpretation," he says.
Despite a history of graffiti art and mural painting that dates back to ancient Rome, modern Rome is a relative late-comer to street art compared to other European capitals like Berlin, London or Paris.
"If you think about the history of art, you think about Pompeii, you think about… The word "graffiti" comes from "graffito", an Italian word," says Jessica Stewart, author of 'Street Art Stories Rome'. "There's a lot of ancient graffiti and writing around the city, and in the renaissance period all the "palazzi" were painted outside in frescos. And we've sort of forgotten that. So I think there is a very strong connection and I think Rome is just catching up on that now."
Twenty street artists from all over the world were given free rein over a dozen buildings in Tor Marancia.
Now, both tourists and locals are coming to visit the new, colourful facades of this once forgotten neighbourhood.
"A lot of people are coming to our neighbourhood to see the graffiti, they like it, they are very impressed. This has never happened before, nobody would come to visit, so it's a revival for our neighbourhood," says resident Claudio Ercoli.
"Street art is an open air art gallery. Therefore it is a chance for everyone, also for people who are not used to visit museums and art galleries, for people who are not looking for art, it is a chance for them to get to know beautiful and valuable works of art," says tourist Valeria Colonnella.
However, while the move has been welcomed by the inhabitants of the neighbourhood themselves, it will take more than a fresh lick of paint to tackle the deep-lying problems in these poor suburbs.