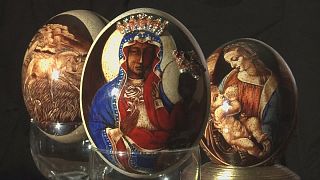 Taking the Polish folk tradition of decorating Easter eggs to a whole new level – Mariusz Dubiel has never attended art school, but his copies of religious Renaissance paintings onto these most delicate of canvases are breathtaking.
Dubiel's main theme are images of the Madonna or Christ. He has been decorating eggs for 15 years, and has been become a master of the art.
The eggs are first boiled in hot water with onion skin to give them an even, brown colour. Patterns are then scratched onto the surface with a paper knife, before painting can begin.
But it's not only about the paintings, says the artist: "It's not just about the aesthetics, the colours or the fact that they are pretty. That's not the most important thing. What matters are emotions. They are supposed to bring sadness, joy, hope. This is my message, that nowadays faith in God can be shown in this particular way, not only through paintings but also in the structure of an egg," he explains.
"I try to show a lot of detail, especially when I represent famous paintings, like for example Leonardo da Vinci's Madonna Litta. I haven't had any education in art, so it is not easy for me, as I had to learn on my own, I had to learn to pay close attention to things and learn how to portray them. And I hope I succeed in doing that," he adds.
Besides religious figures, his eggs often feature animals as well. Even after so many years, Mariusz Dubiel is certainly not running out of ideas for his Easter eggs, one of them being to recreate images of the Madonna from different continents, using local motifs to decorate them, such as Japanese cherry orchards or Mayan pyramids.