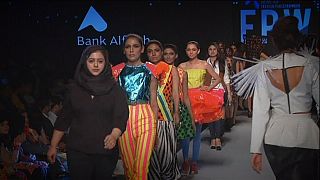 Fashion Pakistan Week opened with one of the most eagerly-awaited collections by promising young talent Sania Maskatiya.
Best known for their versatile prints, fine craftsmanship and use of pure fabrics, she has seduced customers both at home and abroad and seen her business expand rapidly in recent years.
"We paid tribute to arts and crafts of tailoring and that's the imagery we have used – spools, threads, scissors, papers and we have done a lot of print-on embroidery, we tried to build up different textures, it's a really fun collection, its really bright," said the designer.
Nida Azwer's collection featured the designer's trademark vintage hand-embroidered luxury fabrics combined with experimental laser-cut materials, in a colour palette of greys and whites.
"My inspiration is French Trellis, we used organza and chiffons and lot of silks. We've done lots of layering, there is a lot of printing, leather cut work," she said.
Huma Adnan's FnK Asia label featured long maxi dresses paired with floral headgear in a colour palette dominated by crisp whites. Ethnic chic details included rope-like effects on the backs and lacy cutwork.
Sadaf Malaterre closed the show with her upbeat collection, featuring ultra-feminine gowns with layers and frills, in a subdued palette of pinks and browns, adorned with exclusive handmade accessories.
According to one of Pakistan's most influential designers, Hassan Shahryar Yasin, Fashion Week imposes a healthy schedule on the country's fashion industry.
"Designers before were just doing stuff when they wanted to do it and how they wanted to do it, now there is a discipline, there is a schedule, you know when you have to do spring and you know when you have to do autumn. If we want to get the international market interested, which we should, because our textile industry is one of the largest in the world – in Pakistan, we're the second largest manufacturers in the world after China – if we do not get the synergy between textile industry and fashion industry and take it forward, we're not going anywhere," said Hassan Shahryar Yasin.
Fashion Pakistan Week is also a chance for young designers to showcase their work through the Rising Talent Programme.
In all, 30 designers display their work throughout the four-day event in the city of Karachi.