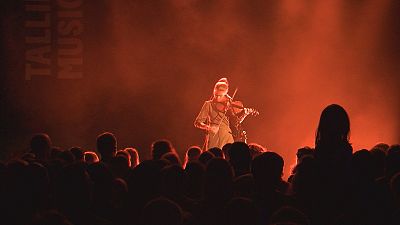 Both a music industry conference and an indoor festival, this year's edition of Tallinn Music Week drew more than 200 artists from 26 different countries.
Alongside the festival's official programme, people open up their homes and workplaces to host free concerts throughout the event.
According to Tallinn Music Week founder and director Helen Sildna, music is part of Estonia's DNA: "Everybody knows about the singing revolution and how music has played an integral part in our history and culture throughout the centuries. People celebrate anniversaries, birthdays or mid- summer nights, and they do it by singing."
Swiss-based artist Ingrid Lukas returned to her native Estonia to showcase her new album Demimonde. She talked to euronews about her unique combination of traditional and modern song forms.
"It's all here, inside me. I was born in Estonia, those are my roots. The modern part comes from my drummer and the urban city I live in, Zürich. What I try to do is combine nature, tradition and the city," she said.
A self-branded classical mutineer, Belgian cellist Brendan Jan Walsh has made it his mission to prove that classical music can make great dance music. And to prove it, he brought his Classical Music Rave to Tallinn.
"We are young people, we enjoy this kind of music, but we are going to enjoy it in our way. So don't put us in a concert hall with – all due respect – stuffy grey people in flowery dresses, but in a party setting!," he told euronews. "And the combination with live music, our DJ and light sets and design, all that, it just becomes a smashing party – with classical music."
Euronews also met members of Swedish pop band Hurricane Love, whose influences range from Coldplay to Foo Fighters and Muse, and who have created their own soul-shaking sound since their creation in 2012.
"We usually describe ourselves as an 'Arena Pop Band'," said lead singer, Nina Knutsson. "So we have pop songs, but we usually end up very big with explosions at the end, so a lot of symbols and rockiness."
The six-piece band from Malmö has been steadily touring Europe and will soon be releasing its first EP.
Maarja Nuut is a fiddler and singer from Northern Estonia. Alone on stage with her violin, she produces a unique sound blending traditional Estonian music and modern technology in a series of loops and layers. The young artist seduced crowds in Tallinn.
"I got this experience when I found these archives recordings and when I heard them for the first time, this Estonian music, I was really astonished by this sound," she explained. "It felt like I've never heard anything like this before and at the same time it felt so natural and logical and nice so I started to work with it."
Maarja Nuut is currently working on her second album and is planning a tour through Europe and possibly further afield this summer.