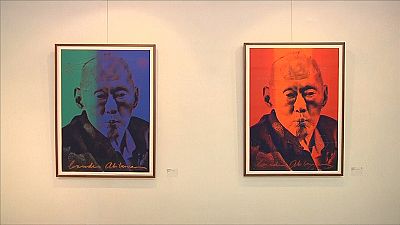 Thousands of Singaporeans have been paying tribute to former prime minister Lee Kuan Yew, the man credited with transforming the country into one of the world's wealthiest nations.
Lee died on Monday aged 91.
Lebanese artist Laudi Abilama is one of many who have been commemorating his death with a show at Singapore's Sana Gallery.
The gallery which specialises in contemporary Middle Eastern art describes Abilama works in its website as "an artistic commentary on how PM LKY worked closely within a multicultural society, embracing the colourful makeup of Singapore and its people's potential to the fullest."
But artistic portrayals of Lee Kuan Yew have not always been welcome in the country.
"For a few years ago the Prime Minister Lee Kuan Yew theme was a no-go area for art and artists. Now we can see that a few artists have started to work on this theme. I hope they will continue as Prime Minister Lee Kuan Yew is a very inspiring icon," said gallery manager Ophelie Guillerot.
Abilama says her work was inspired by her time spent in the country at an artist's residence.
"He was pivotal in making his country what it is today. Singapore has huge similarities to Lebanon in particular because of its multi-cultural society, yet he's managed to make it rather harmonious where we've managed to implode and slightly self-destruct , if you like, over time, unfortunately," said Abilama.
Abilama says although Lee Kuan Yew was feared for his authoritarianism, she admired his approach to Confucian values of discipline, order and respect for education.
The 28-year-old struck upon the idea of depicting Lee after creating a series of portraits entitled "Arab Heroes" which include prints of Gamal Abdel Nasser, Egypt's second president, Habib Bourgiba, the first president of Tunisia. Through these portraits Abilama wanted to show the younger generation the faces attached to historical events and was herself searching for political leadership in a time of turmoil.
"Unfortunately, what is happening now, we belong to a world that is effectively 22 failed states, failed dictators, failed democracy. Everything has kind of meshed into nothing, and so searching for someone like Lee Kuan Yew was inevitable for me as a Lebanese young woman, to understand the way the world works and to interpret different political ideas and different systems," said Abilama.
Laudi Abilama's portrait show continues at Singapore's Sana Gallery until April 26.