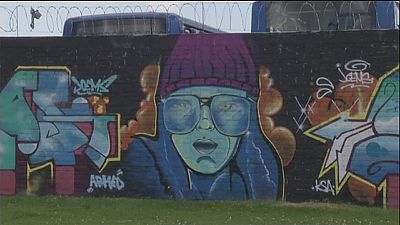 Graffiti on buildings in the Colombian capital, Bogotá, were once considered as vandalism.
But today, instead of hunting down graffiti artists, authorities are encouraging them.
The result is an array of colours, designs and styles displayed across buildings and walls in the capital. There are even tours to show off the graffiti to visitors.
"Graffiti is never going to go away, because there will always be people who are going to disagree with things and they're going to express that through graffiti, be it legal, illegal, or vandalism," says urban artist Edgar Russi.
Nicolás Castro, a fellow street artist, concurs: "It (graffiti) has been used as a tool for change. Graffiti, urban art, is used to convey a message, to make an impression, to change the habitat, and people's day-to-day (lives), where they go."
After the death of Colombian author and national icon Gabriel Garcia Marquez last year, authorities commissioned a huge mural of him.
Graffiti has become such a popular fixture in Bogotá that the capital's Museum of Contemporary Art is now featuring exhibitions by urban artists.
"We can't be blind to the fact that young people strongly identify with this expression and it resonates with them much more than if you were to present them with, let's say, a work by Botero," says Gustavo Ortiz, Director of Bogotá's Museum of Contemporary Art.
Recognition of graffiti as a legitimate artistic expression has led to an unforeseen spread in scrawlings across the city's walls.
Even pop star Justin Bieber could not resist and tapped into the graffiti vibe after a concert in Bogotá two years ago.