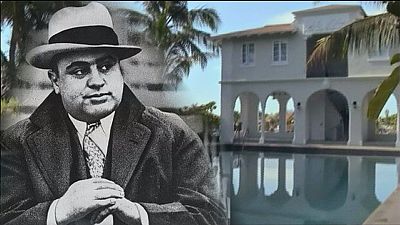 It was the place where Al Capone, America's most famous mobster, would chill out. A private investor bought his Miami Beach property last year for 7.5 million euros to renovate it and rent it out for photo and movie sets.
Al Capone reached fame in Chicago as a gangster in the 1920's and kept alcohol flooding illegally during Prohibition. But his grand-niece Deirdre Marie says he was also a family man who liked to cook and enjoy the pool. She wrote a screenplay about his life and now hopes to film it on the property where she grew up.
"I swam in this pool with him, and when I swam in this pool it was a saltwater pool. It would get its supply from Biscayne Bay, so the water in the pool would rise and fall, depending on the tides," she says.
Capone bought the seven-bedroom house in 1928 during an economic downturn. Miami's tourist industry had just been slammed with a hurricane, so the mafia boss and his dirty money were welcome in the region.
"In some ways, I think he was great for being here because he was a free spender and we believe he invested in a lot of stuff here, legitimate stuff, but in another way it was notorious. You know, you had Public Enemy No. 1 down here, so it was kind of a mixed blessing," says Paul George, history professor at Miami-Dade College.
But in the 1930's, Capone was jailed for tax evasion. Released in 1939, he returned to Miami Beach, where he stayed until his death in 1947. The renovation of his last home should be finished by Spring.