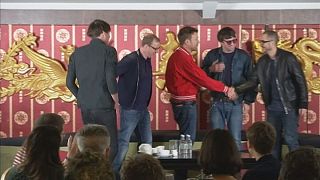 British indie-music darlings Blur have announced they are releasing their first album in more than 12 years.
While the Britpop legends have reunited for one-off gigs and a pair of new tracks in recent years, this is their first studio LP since 2003's 'Think Tank' and their first with guitarist Graham Coxon since 1999.
Lead vocalist, Damon Albarn, felt enough time had passed since they worked together to create something fresh, adding that the album was similar in style to the music David Bowie made during his 1970's Berlin period.
"It's difficult for bands to carry on making energetic music and generally bands get to a point where they're just sort of in the quagmire of studios and their lives in the process of, you know… everything sort of loses that spontaneity. And having given it… I mean, how long is it since? What, 16 years? Sixteen years since we made a… and that seemed like a long enough break to do something fresh," he said.
Entitled 'The Magic Whip', the new album will be out in spring and is preceded by the launch of the new single 'Go Out'.
Initially conceived in Hong Kong back in 2013, it has an Oriental theme running through it.
At their Summer Time festival gig in June, the band has pledged to treat the crowds to some of their old classics as well as new material.
"People who've come to see us in the past know what we're like live, but on this occasion we'll also have a whole new set of things to get excited about. So, they'll be even more music," said Damon Albarn.
One of the major Britpop bands to emerge in the 1990's alongside Oasis and Pulp, Blur were most famous in their heyday for their critically acclaimed number one album 'Parklife' and hit singles like 'Country House'.
They may now pick up a new generation of fans when 'The Magic Whip' is released at the end of April.