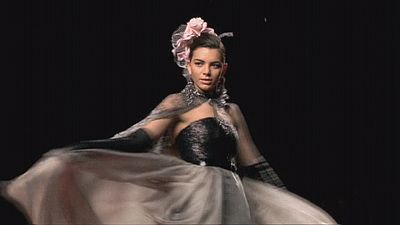 Madrid Fashion Week celebrated its 30 anniversary with a new edition featuring 44 Spanish designers presenting their upcoming Fall-Winter collections.
The mountain as a metaphor of self-improvement was the driving force behind Ion Fiz's new collection.
The Basque designer sought inspiration in the king of winter sports: skiing, and the indispensable "Après Ski". Like all of Ion's collections, the spirit was eclectic with classic fabrics like cashmere, wool and mohair. Outfits were in double-sided fabrics and bi-color wool jacquards.
There were also geometric dresses, flowing coats and capes and coordinated pants with feminine, silk blouses worn with a Spanish bolero hat.
Francis Montesinos' work is characterised by the influence of Spanish folklore and iberian roots. Entitled "Les Garçones", his collection saw women share men's fashion, without sacrificing an ounce of their femininity.
Juana Martín's winter was shrowded in a halo of mystery. The figure of a bird appeared consistently throughout her collection – a symbol of immortality and renaissance for this designer, whose creations are strongly inspired by her Gypsy heritage.
Strategic cuts and metallic pieces modernised the garments, made of wool, printed silk and crepe, in a colour palette displaying multiple shades of greys with hints of colour.