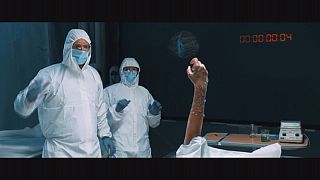 'Lea, An Angel in My House' is an experimental independent film – a hybrid between a scientific thriller and a sci-fi movie.
Shot on a tiny budget of just 200,000 euros, it tells the story of Abel, who loses his wife and daughter in an accident. After a dark period, his life is turned around by the arrival of a young girl very like his own daughter.
The Franco-Swiss film was produced and directed by Jacques-Hervé Fichet, who works as a producer at CERN – the European Organisation for Nuclear Research – in Geneva.
Fichet originally got the idea for the film back in 2000 after watching a documentary about a modern-day Geppetto, who built an android child as a cure to loneliness.
"The biggest challenge for this film, which is home-made, was obtaining funding. So I personally borrowed money from the bank, and then I also launched a crowdfunding initiative, which yielded 7,000 euros," he explained.
Fichet got authorisation to shoot much of the film inside his workplace, and all of the actors worked for free. Fichet's work colleague Stephan Petit was cast in the lead role, and Lea is played by his own daughter.
"Being an actor is a challenge when you are normally just writing software or running a team of people writing software," said CERN worker and actor Quentin King, who plays the role of Karsten. "And there are many techniques to acting which I know very little about. So, in general, it was kind of just about being myself as much as I could and just imagining what I would do in that situation."
"For me, it was like being in a playground, an amazing adventure," said Stephan Petit, who plays the lead role. "It was a chance to discover film acting. I was used to theatre acting but cinema is quite different. Jacques, the director, told me, 'Stop making faces'. I had to seriously trim down my acting technique. But it was a lot of fun. In one scene, you see Lea and me flying in the sky – it lasts just a few seconds, but it took two days to shoot it in a studio hanging on a cable in front of a green screen. It really was a lot of fun,"
The outside shots were filmed in the beautiful landscape surrounding the Geneva-based research centre. It is one of just a few films that got to shoot inside the world-famous CERN including Ron Howard's 'Da Vinci Code'.
'Lea, An Angel in My House' has been snapped up by House of Film, a Hollywood-based company specialising in the world-wide distribution of independent movies, and could be coming to a cinema near you soon.