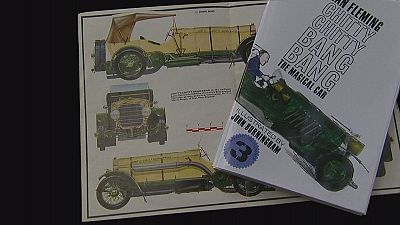 He's best known for inventing literature's most famous spy.
But 50 years ago, James Bond creator Ian Fleming also wrote a bedtime story for his son, about a magical flying car called 'Chitty Chitty Bang Bang', which went on to become one of the UK's best-loved children's stories.
Now, to mark the 50th anniversary of the book's publication, its publisher has created a special copy edition of the original volumes.
Cars feature prominently in all of Fleming's 007 adventures. The book's hero is inspired by a real racer from the 1920's, built with old Zeppelin parts.
"Chitty was partially based on a real car called Chitty-Chitty-Bang-Bang and I think that inspired the sort of car that Chitty should be. And they were built from redundant aeroplane engines after the First World War. So, in fact, the fact that Chitty became a flying car… the original Chitty had an aeroplane engine in it, which is rather fascinating," says Ian Fleming's niece, Kate Grimond.
When he was asked to give Fleming's metal hero a face, illustrator John Burningham created a miniature model of Chitty, which he then used to illustrate the story.
He completed his work in 1963 and was able to show it to Fleming.
"I met him just once and I was expecting him to make all kinds of requests," says Burningham.
"Actually he made two: One was to change the sign on a petrol pump outside a garage. And the other was he wanted me to put a "tabac" sign in Paris, one of the pictures of Paris," he adds.
Unfortunately, Fleming didn't live to see the book published. The first of three volumes came out in October 1964.
A 'Chitty Chitty Bang Bang' musical film based on the book followed four years later, with a script written by fellow author Roald Dahl.