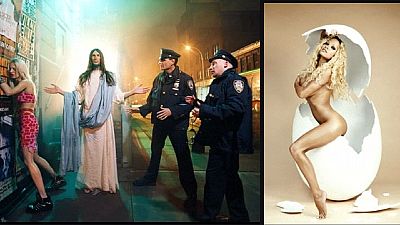 US fashion photographer David LaChapelle was in Lima for the launch of a new exhibition spanning his 30-year career.
The multi-talented artist is also famous for the videos he has done for the likes of Madonna, Jeff Koons, Britney Spears and Lady Gaga.
LaChapelle started out in the 1980's as a fashion and celebrities photographer before switching to fine art photograhy.
"There was a time I worked for fashion magazines and the freedom of working for fashion magazines or celebrity pictures was that nothing was expected of those photographs. So some of them were just images that were escapist or they were humorous. But then later, when I started exhibiting again in galleries, more was expected of those photographs and so I want to have a deeper dialogue with the people viewing them," said the artist at the event in Lima.
It was Andy Warhol who offered the 17-year old LaChapelle his first job as a photographer. Before long, he was working for America's top publishing houses creating some of the most famous, and sometimes controversial, advertising campaigns of his generation.
"He uses the human figure but never in a pornographic manner. It's an art that reflects the beauty of the human body," said one visitor to the exhibition.
The David LaChapelle exhibition runs at the Contemporary Art Museum in Lima, Peru until mid-April.