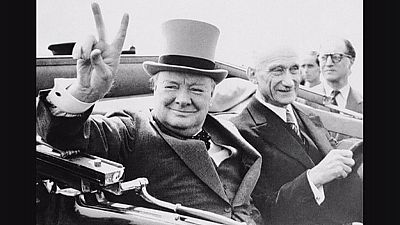 Wartime British Prime Minister Winston Churchill died 50 years ago this month – and the anniversary has been marked by a flurry of events and exhibitions. He was an iconic figure, renowned for his cigars, quick wit and WWII leadership.
The original wartime bunker used by Churchill and his cabinet during the Blitz can be visited at the Churchill's War Rooms museum in London, which is a branch of the Imperial War Museum.
Phil Reed, the director of the Churchill War Rooms said that he hoped the exhibition would provide a more detailed insight into Churchill's personality: "The facts of Churchill's life haven't changed obviously. We perhaps know some more detail, but in fact as more detail comes out, you get closer to the man and his life. You gain a different appreciation of him."
When the Second World War broke out in September 1939, Neville Chamberlain was the British Prime Minister. Winston Churchill only took over the job on 10th May 1940, and is credited with leading the country to victory, and maintaining moral with a series of brilliant speeches.
Randolph Churchill, Winston Churchill's great-grandson says his achievements have ensured a very special place for him in British history: "Churchill wasn't perfect in every way. He made some mistakes, he was a very human person who could relate easily with the soldier or the scientist or the professional. And 50 years on, he holds a very special place in the nation's heart."
Winston Churchill died, aged 90, on 24th January 1965, of a stroke. After a State funeral he was buried at Blenheim Palace in Oxfordshire.
Other exhibitions honouring Churchill this year include "Churchill: Science in War and Peace" at the Science Museum in London, "Churchill's Final Journey" at the National Railway Museum in York, and "Churchill – De Gaulle" at the Esplanade des Invalides in Paris.