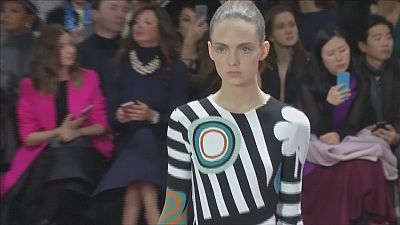 Paris' Rodin museum underwent a radical transformation for the Dior 2015 Spring-Summer fashion show.
An impressive two-storey circular runway covered in dusty pink carpeting and surrounded by industrial piping gave guests the impression of going back in time to a lavish Seventies sci-fi flick.
This juxtaposition of old and new seemed to be exactly what Dior's creative director Raf Simons was aiming for in his new collection, which mixed fabrics from the past, like wool and fine embroidery, with erotic plastics and patent leather, giving outfits a futuristic twist.
The choice of music underlined the point.
"The way I see David Bowie is the way I see this collection, not necessarily aesthetically but as a kind of concept, because I wanted to go back in time like the last couture show. But I wanted to see if I could bring three decades together that sit in a row: the Fifties, the Sixties and the Seventies," said Raf Simons.
And the Giambattista Valli show in Paris was all about rock meets chic.
Although both women are synonymous with women's liberation, only the Italian designer could combine Coco Chanel's Parisian flawless elegance with Janis Joplin's American irreverence.
Mademoiselle Coco's timeless style was instantly recognizable from the polka dots to the tutu skirts and the monochrome silhouettes.
Dots of colour were added to dresses with embroidered flower petals in soft pink or yellow until colour took over completely in an explosion of pink hues.