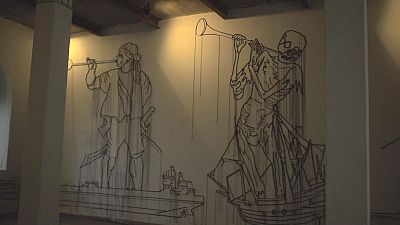 The Kochi-Muziris Art Biennale, one of the biggest events of the cultural calender of south west India, is a meeting of the past and the present.
Contemporary works by almost 100 artists from some 30 countries feature across the eight venues of the festival in the state of Kerala.
Centre stage is Aspinwall House, a 150-year-old seafront spice warehouse, transformed into an art laboratory. The theme 'Whorled Explorations' reflects the various colonial influences on what was once a key maritime city, says artistic director Jitish Kallat: "They come in the form of conceptual pointers that you might have towards ideas of time and history. I mean, in a very simple way I would think the biennale does what we do every day when we try to see or understand something.
"We hold an object and take it close or far in space to understand it or see it. We think back and forth all the time to understand where we are. And I think the biennale just exaggerates this."
The cavernous, evocative interior of Aspinwall House enhances the effect of installations such as American poet Aram Saroyan's 'M', the shortest poem in the world. Many works deal with themes of time, the planet, and the environment.
The Kochi-Muziris Biennale uses the language of art to explore contemporary works from India and beyond.
For Indian artist Valsan Koorma Kolleri, who works with geometrical abstractions derived from the human body, inspiration remains a mystery: "Of course we don't know where we actually get the inspiration. We get a hint; I feel I am an intuitionist, I get a little hint that I like to work on, so my work always… anything going wrong, I know that there's something wrong with me, so somehow I am able to correct myself, work is like a mirror, you know."
Among the big names exhibiting is Mumbai-born Anish Kapoor. His perpetual whirlpool, 'Descension,' has a mesmerising effect.
Equally captivating is Nikhil Chopra's transformation of one room into a prison from which the artist finally escapes.
Elsewhere, Norwegian artist Sissel Tolaas uses an entirely different medium in her unique experimental project.
"What Sissel Tolaas has done, she had a group of men who were afraid of bodies, and while they experienced these attacks of fear, she collected their sweat. And then she chemically recreated the smell of that sweat," says Mitika, an exhibition guide.
In another space the trauma and desperation of refugees is evoked by Vietnamese artist Dinh Q Le.
His living archive of photos of the Killing Fields reflects the biennale's artistic vision.
"It is the only major non-commercial art festival which is happening in this country at this moment, says Riyas Komu, founder of Kochi Biennale:
"So it is a site for experimentation, it is a site for engagement for artists to do larger projects without even thinking about the commercial. So this biennale is a catalyst for change, it is almost like a change agent."
The "Whorled Explorations" is described as a 'swirling, experiential promenade' through history. The previous biennale was visited by close to a million people. This edition is open in Kochi until the end of March. ​​