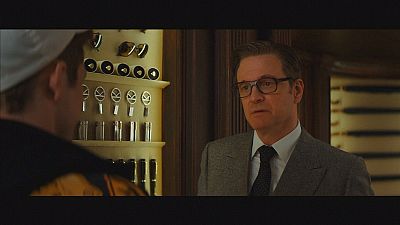 From the stammering King George VI in 'The King's Speech' to an action hero in 'Kingsman: The Secret Service'.
Colin Firth is a gentleman, a veteran secret agent who takes a young upstart under his wing – Eggsy played by Taron Egerton. His introduction happens just as a global threat emerges from a twisted tech genius.
Based on the comic book 'Kingsman: The Secret Service', the movie was directed by Michael Vaughn who believes audiences will welcome another character to the comic film universe.
"I think they're going to be delighted to see a modern day gentleman kicking the living daylights out of people in a way that hasn't happened before," he told reporters.
The credo of the movie is that a British superhero must, first and foremost, be a gentleman. Colin Firth exudes elegance but, as is evident in the fight scenes, he also can explode into a fistful of action, something he thoroughly enjoyed.
"I loved it. I didn't love the first month, it hurt but I kept at it for long enough and eventually if you repeat something you'll get some results. I was thrilled. I missed it terribly when it was over," he said.
Wearing a suit in the actions scenes was key for the 25-year-old Welsh actor Taron Egerton.
"Actually there's something really wonderful about wearing a suit because it makes you feel very strong, very physically able, very capable. So, yeah if you're ever going to save the world, it's got to be done in a bespoke suit, doesn't it?" said Egerton.
The Kingsmen are facing a new threat from the squeamish but evil internet billionaire Valentine – played by Samuel L Jackson.
The movie is a super-styled, ultra violent fantasia, pushing all those starchy, toff values that underlie Bond into absurdity but then making them work all over again.
'Kingsman: The Secret Service' is now in worldwide release.