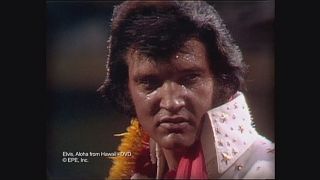 He would have been 80 today.
The King was born on the 8th of January 1935.
Elvis Presley began his music career in 1954, with the legendary Sun Records label in Memphis.
By the time he had reached 21, he was a global sensation, and went on to become the best-selling solo artist in the history of recorded music.
In May 1967, he married Priscilla Ann Beaulieu, whom he had met as a soldier back in Germany when she was just 14.
Elvis' life – and death – is indelibly intertwined with his Graceland home in Memphis, where he lived for more than 20 years, and which has been turned into a museum.
Kevin Kern of Elvis Presley Enterprises says Graceland has a few surprises planned for the King's fans.
"We'll have a king sized celebration here on the front lawn at Graceland. We'll have a cake fit for a king, eight tiers. Eight tiers for 80 years. And every fan will go home with a piece of cake and celebrate the King's birthday in style. There will be lots of other events taking place, from fan club events, live music events, to an auction of artifacts that were once owned by Elvis or given to folks by Elvis, that have an Elvis connection."
Elvis' sound uniquely combined the diverse musical influences of his youth, including pop and country as well as gospel and R&B, challenging the social and racial barriers of the time.
He also starred in more than thirty films, including the world-famous 'Jailhouse Rock'.
According to this Elvis fan, his legacy will never die.
"Whether you're from Japan, England, Australia, you know, this guy brings people from all four corners of the Earth to one place to celebrate his life and his music. Elvis has touched the lives of so many people over the years and will continue to do so for many more generations and many more years to come, even after we've long left, you know. I think it's a legacy that will continue forever," says Colin Paul, an Elvis fan from Manchester in the UK.
After years of prescription drug abuse that severely damaged his health Elvis Presley died in 1977 at the age of 42.