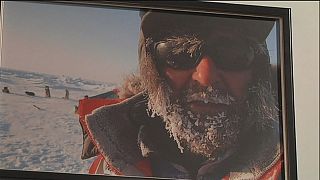 Russian artist and world-famous explorer Fyodor Konyukhov has set up camp at the Moscow Museum of Modern Art for a unique exhibition of his works born from his numerous travels.
Whether journeying to the North or South poles or climbing Everest, Konyukhov was nevertheless able to take notes and make sketches despite temperatures of minus 50 degrees Celcius. While on board his yacht circumnavigating the globe, the explorer found time to work on new subjects for his future paintings, which he would finalise on his return to Moscow.
When asked where he gets his inspiration from, Konyukhov, who is an ordained priest, says art, science, sport and records set in honour of Russia are what inspire him. "I pray during my trips as I am a believer and I serve God," he adds.
Konyukhov is the only person to have visited the five poles of the planet: the North and South Poles, the Pole of Inaccessibility in the Arctic Ocean, the top of Mount Everest and Cape Horn, the pole of yachtsmen.
Travelling by all means of transport including camels and dog-sleds, Konyukhov has set multiple world records, sailed around the world five times and crossed the Atlantic Ocean 17 times.
Featuring works dating from the 1970s to today, 'Fyodor Konyukhov: Paintings and Graphics' runs at the Moscow Museum of Modern Art until January 25.